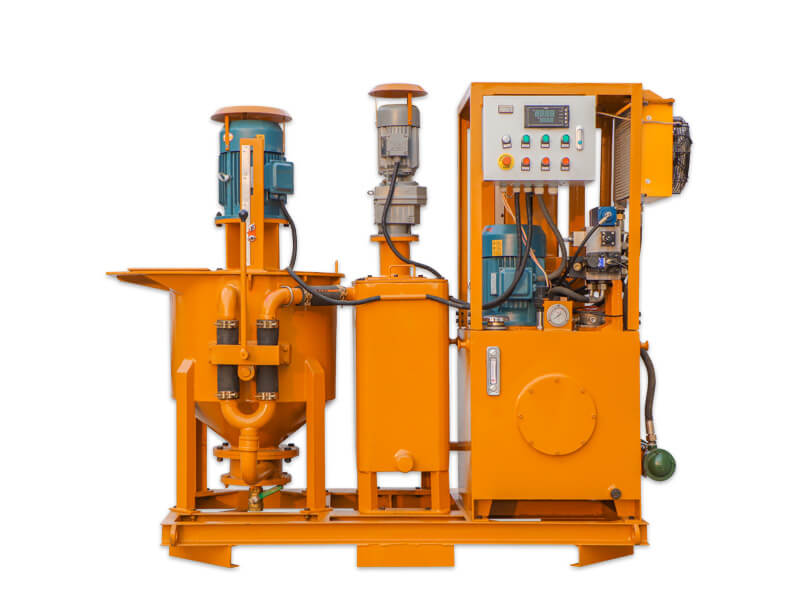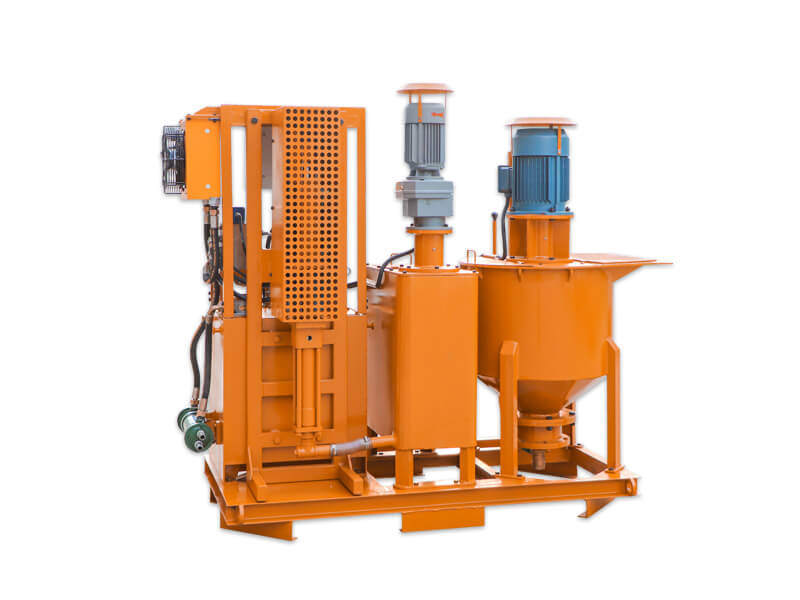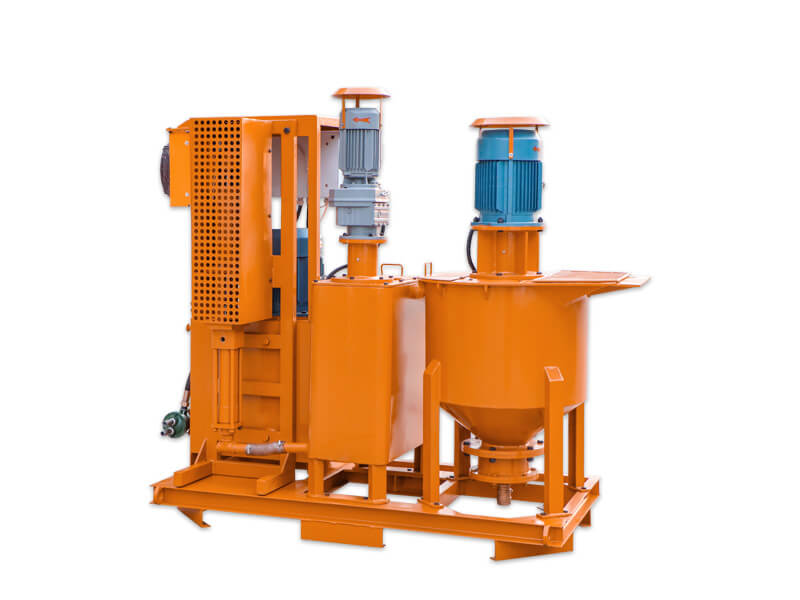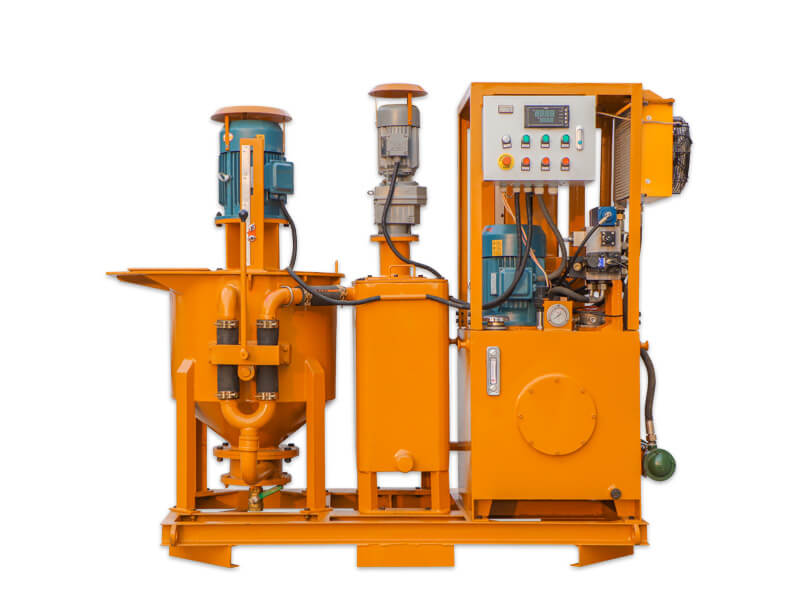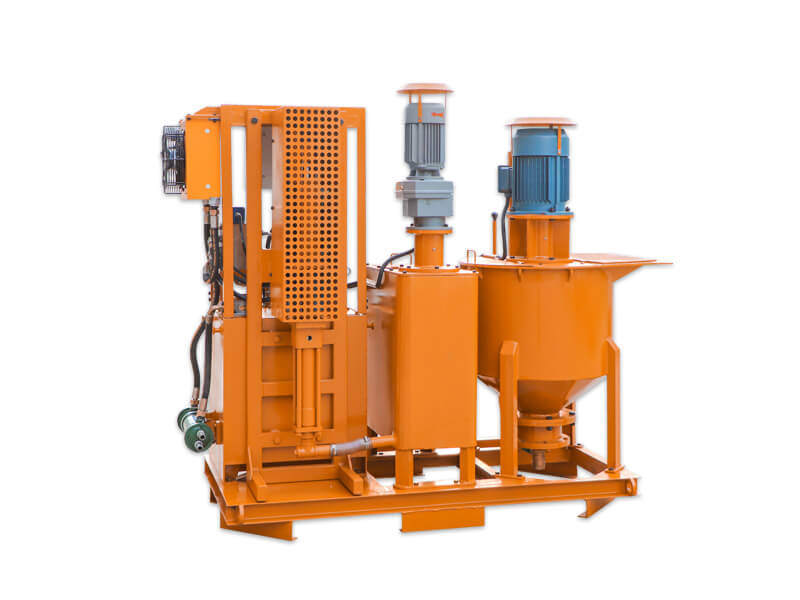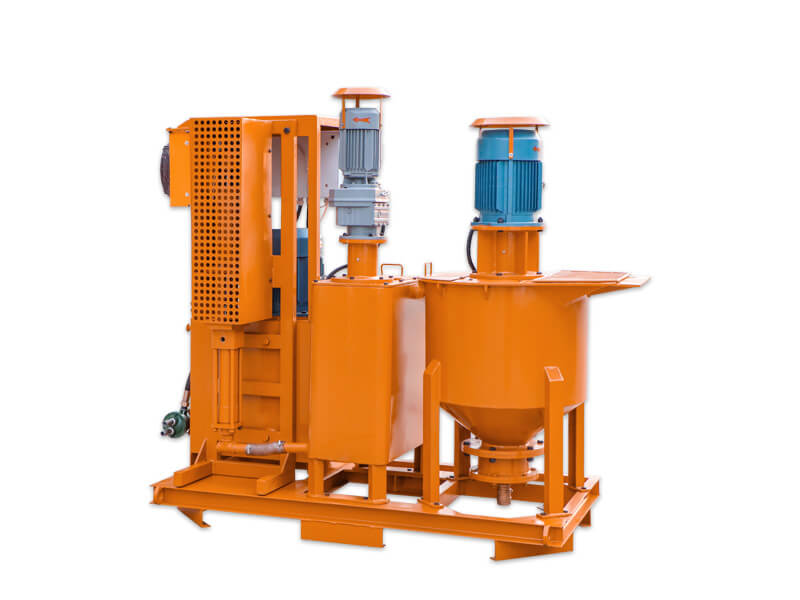 WGP100/150/20PI-E Colloidal grouting pump system
Description:
WGP100/150/20PI-E Colloidal grouting pump system integrates the grouting mixer, grouting agitator and grouting pump. The grouting mixer machine eddy current pulping, pulping fast, uniform, water, cement and other media can be quickly mixed into a uniform slurry; Then the mixed slurry is transferred to the mixing tank. The grouting pump draws the slurry from the mixing tank (the storage tank) to achieve continuous pulping and grout operations.
Features
1.One and two-oil gear pump to get large output and high pressure in the same grout pump.
2.Single piston and two-acting, by our special design to get the same volume in both rod and no rod chamber.
3.The colloidal grouting pump system is a vertical pump with compact size.
4.Hydraulic drive, safely releasing pressure when pumping block. 
5.Ball valve.
6.Up to 5mm particle size. 
7.Low flow pressure surge system.
8.Lower charging material height for mixer.
9.The grouting pump system has a high-speed colloidal grout mixer.
Technical Paremeter
Name

Data

Type

WGP100/150/20PI-E Grout Station

Mixer

Volume

100L

Speed

1500rpm

Motor power

5.5kw

Agitator

Volume

150L

Speed

36rpm

Motor power

1.5kw

 Grouting pump

Pump pressure and output

20L/min @ 43bar

10L/min @100bar

Motor power

5.5kw

Dimension

Dimension

2200×1000×1850mm

Weight

900kg
Application
1. Ground improvement: pipeline injection, soil mixing procedure, injection filter
2. Tunnel construction: ground reinforcement, ceiling grouting, pipe network grouting, mortar backfill grouting, cement grouting
3. Ditchless structure: pipe jacking, mini tunnel, directional excavation
4. Prestressed concrete: cable duct injection
INQUIRY
Zhengzhou Wode Heavy Industry Co., Ltd.
INQUIRY
If you have any questions, feedback or comments, please fill out the form below and we will reply you back as soon as possible.