Pneumatic motor refractory concrete shotcrete machine
2022-12-14 21:48:22
Pneumatic motor refractory concrete shotcrete machine use compressed air to spray a rate of refractory material at high velocity to form a refractory layer on the sprayed brick surface. With efficiency and good engineering quality, it is mainly suitable as a Heat gun for refractory layers of industrial furnaces. Shotcrete machines are mainly suitable for spraying and supporting concrete construction such as tunnels, culverts, subways, hydropower projects, underground projects, mine roads, highway slope protection, etc.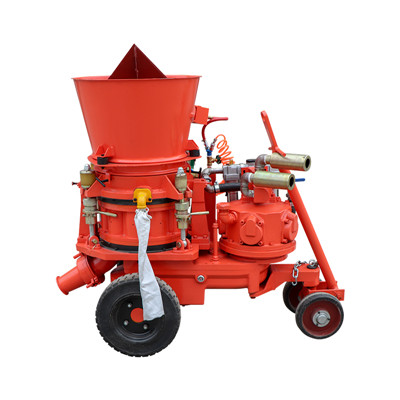 The working process of the pneumatic motor refractory concrete shotcrete machine is as follows: The refractory concrete shotcrete machine is mainly composed of a hopper, mixing device, discharge elbow, gas system, rotor, reducer, and other parts. The motor drives the rotor and rotates the reducer. The mixture is loaded into the rotor and pumped at the discharge elbow by the air pipe of the air circuit system, passing through the transport pipe, spray nozzle and auxiliary air inlet tube of the air circuit system. pass through. A refractory material sprayer can then shotcrete the material on the surface.
Refractory sprayer features:
The refractory concrete shotcrete machine has the functions of mixing, conveying and spraying.
The refractory concrete shotcrete machine has high injection quality and fast construction speed, which saves a lot of labor.
Refractory spraying machines are widely used in metallurgy, industrial furnaces and steel mills.
The refractory concrete shotcrete machine is a molded product with excellent quality and durability. Also available are related vulnerable parts, rotating plates, connecting plates, spray guns and other accessories.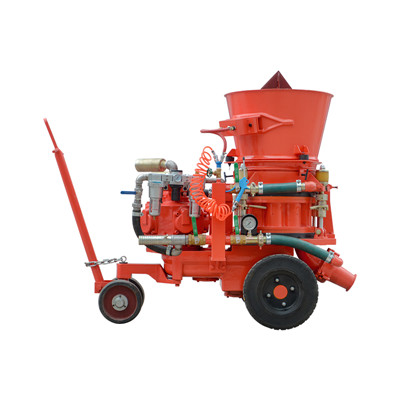 The refractory concrete shotcrete machine is an all-pneumatic direct cavity rotor refractory spraying machine equipped with an air motor. The pneumatic 5m3/h refractory spraying machine is a spraying machine dedicated to refractory casting concrete and casting concrete casting. The pneumatic motor refractory Shotcrete Machine is a powerful, compact and reliable refractory gunning machine. Low dust generation and high-performance spray flow can be achieved in the nozzle. We also provide electric sandblasting machines for the steel furnace industry. The output of the slurry machine is 1-5m3/h and the maximum conveying distance is 100 meters. The maximum diameter of the particles that can be sprayed is 15mm, which can meet your normal spraying needs. We can also make improvements and provide customized products according to your requests.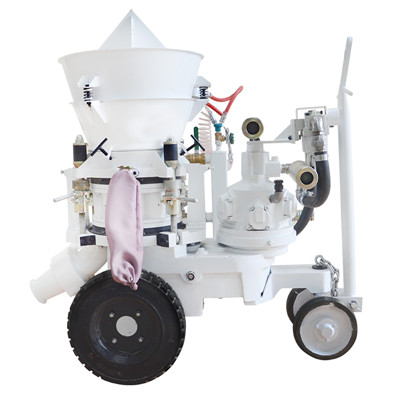 Wodetec has been manufacturing refractory shotcrete machines, refractory pan mixer machines, and other grouting equipment for many years. Pneumatic motor refractory concrete shotcrete machines are available with pneumatic and electric drive modes. Pneumatic fireproof shotcrete machines are safer, more environmentally friendly and suitable for applications in hazardous areas. Refractory concrete shotcrete machine output can be selected between 3 cubic meters per hour and 5 cubic meters per hour. We can also customize it according to your needs.