China concrete spray shotcrete gunite machine sales in Philippines
2022-01-26 18:04:59
Wodetec Equipment is a leading manufacturer of concrete spray shotcrete gunite machine in China and a unique supplier with ISO 9001: 2008, SGS and CE certification for shot cleat machines in China. Our concrete spray shotcrete gunite machine is exported to USA, Canada, United Arab Emirates, Malaysia, Pakistan, South Korea, Bahrain and Nepal. We will continue to expand the export market, so please look forward to it.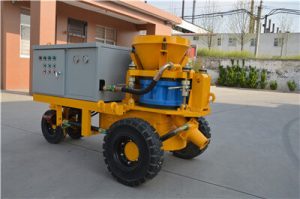 The widespread use of concrete spray shotcrete gunite machine sales in Philippines is also one of the reasons for their popularity. It can be used not only for engineering work, tunnel work, and culvert bridge work, but also for greening work and soil structure optimization work. More importantly, the advantages of small size, light weight, light handling, and flexibility of movement make it a multifunctional machine for engineering.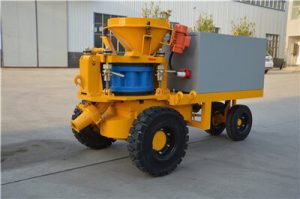 Advantages of China concrete spray shotcrete gunite machine sales in Philippines:
◆ Non-adhesive transit rotor with new material chamber completely eliminates binding and blocking during operation to reduce clearance and maintenance period.
◆ The fine flow transfer method by eddy current makes the spray flow uniform, continuous and stable, and improves the quality of shotcrete.
◆ The 4-point clamp device facilitates press adjustment between the seal plate and rotor disc, eliminates air and dusk leaks, and extends the life of consumable parts.
◆ Especially used for dry and moist mixtures and steel (polymer) fiber reinforced shot cleats.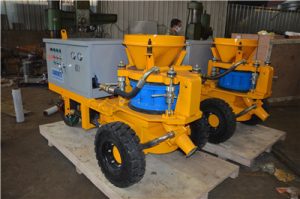 Working with China concrete spray shotcrete gunite machine sales in Philippines. In the construction engineering industry, the work quality standards of concrete wet spray machine are evaluated in two main aspects. Quality control support for concrete sprayers includes controlling the strength of concrete and the thickness of the spray. The strength of shotcrete is fully guaranteed in terms of precise control of water-cement ratio, adequate mixing and hydration, and proportional fast-hardening agent addition. Compared to dry sprays, wet sprays have higher shear strength than tide sprays. %, If the spray thickness is 150 mm, the spray layer thickness can be reduced by 30 mm with the same strength requirements. At the same time, the thickness of one spray layer is significantly increased compared to dry spray, making it objectively easier to meet the design spray layer thickness requirements. The strength of the shotcrete and the thickness of the shotcrete provide a reliable guarantee, improve support quality and guarantee the safety of road construction.
Today, the construction industry is developing rapidly, leading to the development of construction machinery, including shotcrete spraying equipment. Since shotcrete are used at many construction sites, care must be taken when selecting building equipment, which is extremely meaningful to users.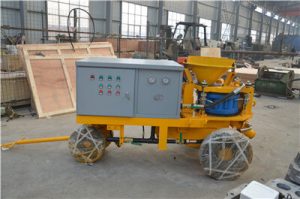 First of all, qualified jets help users complete their work well and meet spray standards. Second, maintenance is very important. Whenever there is a problem with the jet, Leadcrete will solve it immediately for you at a later stage. This also reflects the excellent service aspect of the supplier.
China concrete spray shotcrete gunite machine sales in Philippines has the excellent performance,and contact us we will send the price and more details for you!Email:sales@wodetec.com