Air-driven concrete spraying machine for sale
2022-05-14 17:13:55
Air-driven concrete spraying machine for sale is usually divided into dry spray concrete machines and wet spray concrete machines by different processes. For the dry concrete spraying machine, pure water-free mixed sand and cement enter the hopper, compressed air carries the material to the nozzle, water is added to the nozzle, and compressed air sprays concrete onto the work surface. In the wet spray process, unlike the dry spray process, pure sand and cement are mixed with water before entering the hopper, the compressed air carries the moist concrete material to the nozzle, and the accelerator is added to the nozzle, and then the compressed air. Portable concrete spray on the work surface Sprayed on concrete.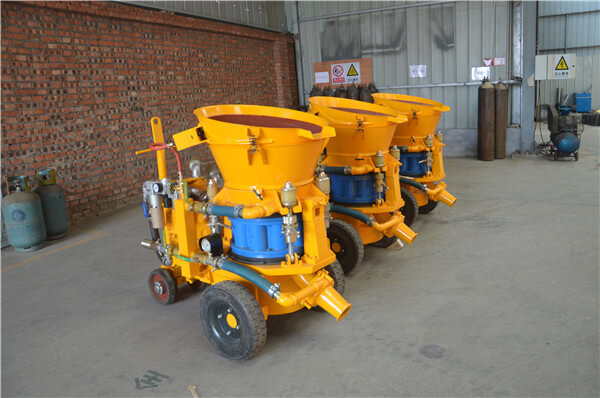 Air-driven concrete spraying machine for sale has a rational structure, a humane design, reliable performance, convenient operation and maintenance, and a long service life. There is no dust during work, there is little noise, and the rebound rate is low. Air-driven concrete spraying machine for sale significantly reduces the dust concentration near the machine and nozzles, improves the working environment of workers, and reduces pneumoconiosis caused by excessive dust.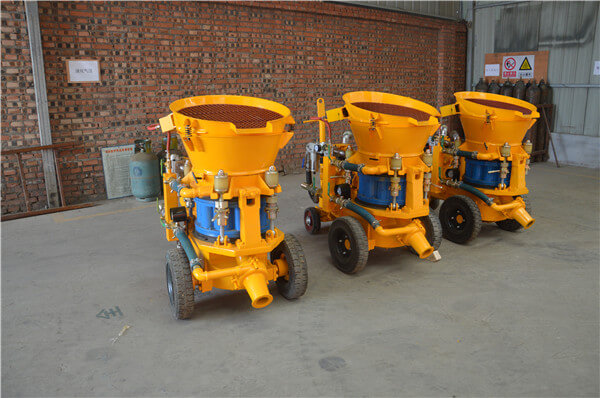 Air-driven concrete spraying machine for sale is suitable for the construction of iron (highway) road tunnels, skyscrapers, and detour culverts. The machine has a simple structure and is easy to operate and maintain. Unique compression device. The 10 material chambers in the shotcrete rotor are made of special rubber and sway in the action of the wind to form self-cleaning and prevent material from sticking.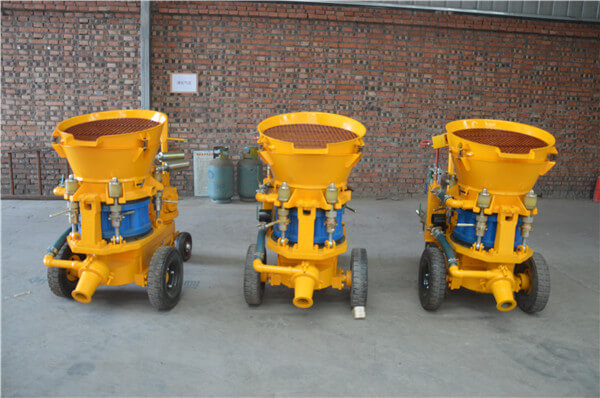 Air-driven concrete spraying machine for sale is widely used in engineering construction, mining, tunnels, culverts, subways, hydropower projects, underground engineering, and coal polymer mining road shot cleats construction work: various industrial kilns, spraying of fireproof materials. Or repair lining: slope protection, greening construction, earthwork, spraying, etc. The cement slurry pumped by the mud pump is mixed with the sandstone sprayed by the spray concrete machine in the mixer and the quick-hardening agent and sent to the spray gun by the transport pipe to be sprayed. A spray concrete machine with sufficient spare parts mainly consists of parts such as a rotor type concrete atomizer, cement slurry mixer, extrusion cement slurry pump, electric control box, discharge elbow, air system, mixer, spray gun, frame, etc.
More details about the concrete spraying machine for sale, please contact us! Email:sales@wodetec.com