Adjustable pressure cement grout station machine
2022-11-25 00:48:17
Adjustable pressure cement grout station machine includes a grouting machine, a grouting mixer and a grouting pump, and the main mixing and pouring materials are cement, sand and water. It is mainly used in ground and underground constructions such as roads, railways, hydropower, buildings, mines, etc.
Adjustable pressure cement grout station machine is a combination of agitator, agitator and grouting pump in one base. It is mainly used to prepare bentonite slurry, cement slurry, etc.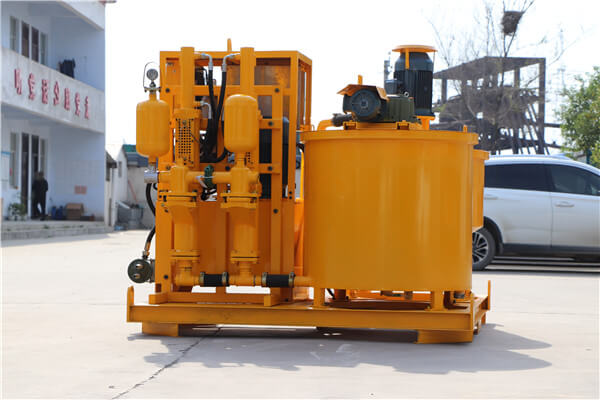 WGP400/700/80DPL-E planetary grouting machine, agitator capacity 400L, agitator capacity 700L, pump output 80L/min. If the output of this product is not satisfactory, we can also customize it according to your needs. The grouting device is driven by hydraulic pressure and electric motor. The grouting pressure and displacement are adjustable. Small size, easy to operate. It also takes up very little space.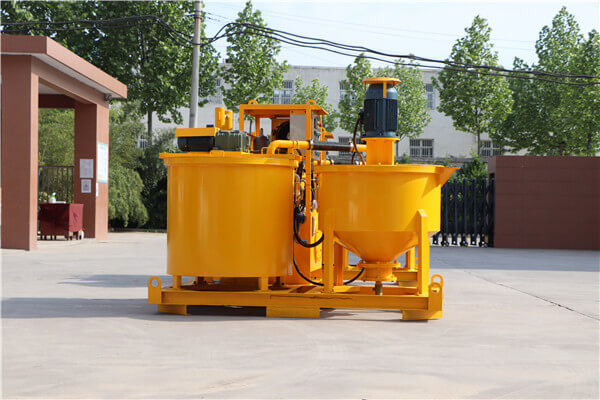 Special design: Double plunger pump is used with pressure maintaining system to make the pump automatically stop and maintain a very small pressure pulse (50bar grouting pressure is 1-4bar), ensuring that the grouting hole is completely filled.
The working principle is that cement or bentonite and water are archived in the mixer by the high turbulence generated by the pump casing. This turbulent flow with high shear forces separates the cement or bentonite particles to form a fully hydrated suspension. Once the mixing process is complete, transfer the mixture to a blender. A slow stirring paddle prevents the grout from settling out of suspension and removes any air bubbles in the mixture. Each machine is equipped with mixers and pumps of matching capacity, plus an agitation storage tank, allowing for near-continuous operation once work begins.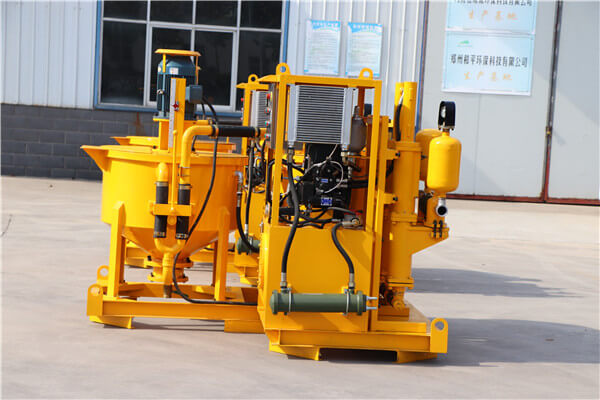 Features of adjustable pressure cement grout station machine:
High-speed colloidal grouting mixer
Compatible with the liquid level of the mixing tank
Double plunger pump
The vertical pump is small in size
Hydraulic drive (safety pressure relief by pumping block)
The hydraulic system has a high temperature warning protection system
Pressure maintaining system
Low flow pressure surge system
Air cooling, water cooling (suitable for working in tropical and subtropical regions)
The maximum particle size is 5mm
A full range of grouting machines and grouting pumps have been developed, including piston type, plunger type, double piston type and hose type. Grout mixer volumes from 200 to 1200 liters, grout mixer volumes from 300 to 3000 liters, pump flows from 1 to 300 l/min and pressures from 1 to 100 bar. Electric and diesel power can be customized. If you have further questions, please contact us.